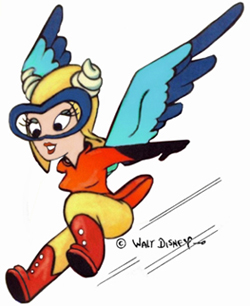 Fifinella, the WASP mascot

A couple of weeks ago, I was tickled pink to get an email from Mrs. Carla Howard Horowitz, which began, "A friend who knows about my earlier life (I was a member of Class 44W8, WASP) sent me your delightful book."
You could have knocked me over with a feather.

For all of the research I did on the WASP while working on FLYGIRL, I never had the privilege of actually communicating with one of these amazing women.

Until now.

Thank goodness she liked the book!

What followed was a string of emails with my questions and her reminisces, one of which I will now, with her permission, share with you.
In Chapter 22 of FLYGIRL, Ida Mae and Lily are tasked with flying the notoriously difficult B-29 Maurader.

The author's note goes on to credit Dora Dougherty Strother and Dorothea Johnson as the two women who actually flew the plane.

Happily, Mrs. Horowitz had this little gem to add to their true story :
A small addition to the tale of the B-29.

As I heard the story, the Army officer who was assigned the task of convincing the male pilots that the B-29 was flyable was Paul Tibbets, who later flew the Enola Gay over Hiroshima. There had been numerous complaints: the plane was too big, slow to respond, unwieldy.

I was told that it was Tibbet's choice to show the men that they would truly look wimpy if mere girls could handle the big monster. He chose two WASP who had twin-engine training, but not four-engine. And that it was Dorothea Johnson Moorman who was at the helm when she called the tower and asked permission to land as they approached an Army field.

There was no answer from the tower.

Tibbets told her to take it around again, make another approach, and call in.

Same story: no answer.

"Give me the stick" he said (or maybe it was "give me the wheel" or "Give me the plane.")

He buzzed the tower, gave the plane back to Dorothea J M and said to try again. She did, and this time the tower did respond:

"Lady, get off the air.

There's a B-29 trying to land."

She replied: "I am the B-29."

It's my favorite WASP story.
Thank you, Carla, for sharing your wonderful story with us.

For your years of service, many thanks from the bottom of my heart.

You are an inspiration.
(Want to see Carla in uniform?
Click here
for a trip to the amazing WASP archives at Texas Women's University.
What a looker!)
On a separate note...
I will be at the Los Angeles Times Festival of Books this coming Saturday, April 20th. Swing by the following booths and say hello!
11:00 – 11:45 AM Signing at the Mysterious Galaxy booth (#1201).
12:00 – 12:45 PM Signing at the Penguin/Mrs. Nelson's booth (#720)